You are here
Back to top
Bagels and Blackmail (Paperback)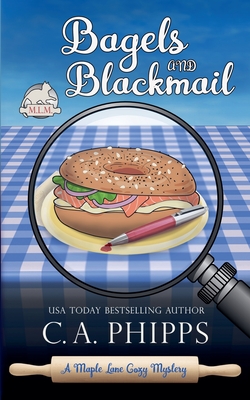 $15.59

Usually Ships in 1-5 Days
(This book cannot be returned.)
Description
---
Petnapping in Maple Falls
Big Red is more than a pet...
... so much more.
The large ginger ball of fluff is not the only one taken, which is a catastrophe for the owners who, like Maddie, consider them family.
Of course, the body found behind her bakery takes precedence with the police and the town is scared, but why is no one else searching for the pets?
Sheriff Tanner, who happens to be her ex-boyfriend, is doing what he can to solve both crimes. Still Maddie can't sit by and wait. Going against her darling Gran's wishes, she once again does her own detective work--with a little help from her friends.
If you love your pet, this cozy mystery will have you cheering for Maddie, because she won't give in until every animal is safely home
The Maple Lane Mysteries are light, cozy mysteries featuring a quirky cat-loving bakery owner who discovers she's a talented amateur sleuth.
The Maple Lane Mysteries
Book 1: Apple Pie and Arsenic
Book 2: Bagels and Blackmail
Book 3: Cookies and Chaos
Book 4: Doughnuts and Disaster
Book 5: Eclairs and Extortion
Book 6: Fudge and Frenemies
Book 7: Gingerbread and Gunshots - coming soon
Each book contains an easy recipe or two.
"Enjoyed this book, very engaging and hard to put down. Had to finish it all at once, not easy to stop at any spot besides the ending "