You are here
Back to top
Kirchenmusikalisches Jahrbuch - 98. Jahrgang 2014 (Paperback)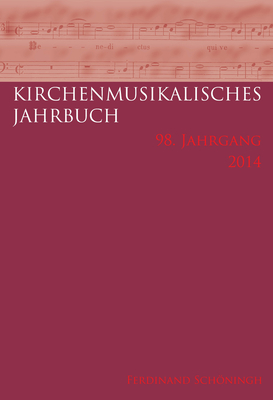 $40.00
This is a special order and can be hard to get.
Description
---
Im Auftrag der G rres-Gesellschaft und in Verbindung mit dem Allgemeinen C cilien-Verband f r Deutschland herausgegeben von Ulrich Konrad
Klaus Pietschmann: Der F rst h rt die Messe. Formen musikvermittelter Partizipation, Interaktion und Repr sentation in der h fischen Liturgie
Inga Mai Groote: quod pium, quod grave, quod dignum ... compositum est Impulse aus der Musiktheoriegeschichte f r die Kirchenmusikforschung
Christiane Wiesenfeldt: Musik in Bewegung - Bewegende Musik. Prozessionen als musikalisierte Rituale
Luigi Collarile: Die Missa super La Bataille im Zeremoniell und Repertoire der venezianischen Cappella Ducale
Claudio Bacciagaluppi: Bisogna che le messe si sfornino a guisa di mele cotte. Giovanni Battista Pergolesis Messen - Auftr ge, Auff hrungen und Kontext
Irmlind Capelle: mit Kuhreihen, mit Musetten- und Schalmeienklang Anmerkungen zu Abb Voglers Missa pastoritia
Eva Vicarov Die Reform der Kirchenmusik in der Kathedrale in Olomouc vor dem Hintergrund des Kyrillismus in B hmen
Dominik H ink: Oratorium und S kularisierung.