You are here
Orygun: Poems (Hardcover)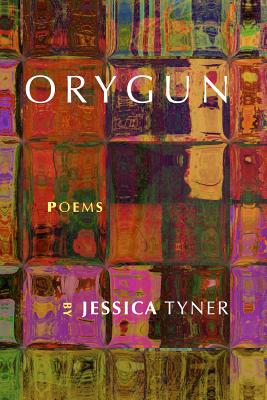 $24.99
This is a special order and can be hard to get.
Description
---

Ms. Tyner's recall is so sensory, her imagination so rooted, her language so up front, and her sensibility so rounded, that she has no need of the merely fanciful. There is no glitz for looks here, no trading on fragility. This book will knock your socks off. --Marvin Bell, National Book Award Winner for Poetry, Guggenheim Fellowship for Creative Arts, Winner

Jessica Tyner masterfully evokes the gut-punch of human existence, wielding sharply crafted words that bound like a familiar melody threatening to bend out of tune with every revelation.
--Jared Goode, Playwright Orange is the New Musical

ORYGUN takes you home, marrying confessional poetry, while tapping deep into the reader's cravings for a full literary experience. This collection of narrative poems touch on how the landscapes that helped raise us also shape us, the intricacies of love with ourselves and others, and shared human struggles of hope and desire, as we teeter on ever-changing, emotional edges.

We invite you to enjoy powerfully evocative and beautifully written poems from Jessica's third book of poetry, ORYGUN.

Why ORYGUN? "It's Ory-gun, not Ora-gone." Native Oregonians--or those who have assimilated impressively well--have given this admonishment numerous times. How a person pronounces "Oregon" tells you if they're a local or not. Jessica Tyner, born and raised in Oregon, grew up seeing the famous ORYGUN bumper stickers. As you meander father north towards Portland, you'll spot a peppering of "It's Willamette, dammit " stickers mixed in with the requisite "Keep Portland Weird" commands. Yes, Oregon is a state thick with cities, streets and rivers with unusual, often Native American-inspired, names and pronunciations from Couch ("Cooch") to The Dalles (not "Dallas"--that's another city in Oregon ).

For Oregonians, correct pronunciation of the gorgeously green state is more than a matter of pride. It's a slight nod to the rich Native American history of the region, and also a bit like a secret password to a very exclusive club.
About the Author
---
Jessica Tyner Mehta is the author of The Last Exotic Petting Zoo and What Makes an Always by Tayen Lane Publishing, and The Wrong Kind of Indian by Wyatt MacKenzie Publishing. An award-winning poet, novelist and writer, her work has appeared in over 50 magazines and journals around the world, including "Ray's Road Review" which nominated her poem "Speleology" for a Pushcart Prize. She has been a featured reader at numerous literary events including India's International Poetry Festival (New Delhi), Wordstock (Portland, Ore.), the International Women's Writing Guild Summer Conference (Allentown, Penn.), and Berl's Poetry Bookshop (Brooklyn). Jessica also reads and performs her work as a "poetry whore" with the international Poetry Brothel series, performing in both Portland and Brooklyn. The show brings international poets to the stage to embrace a persona in a 1920s themed event where patrons purchase a poet's time for private readings. She performs under the stage name "Savage," a nod to her Native American heritage. Jessica received a Writers in the Schools (WITS) residency from Literary Arts, a teaching artist fellowship, and was a founding member of the organization's Writers of Color committee. A confessional poet who relies heavily on honesty, transparency and narrative approaches to writing, her work has been applauded by poets Marvin Bell and Luis Chaves. Jessica counts poets Kim Addonizio and Li-Young Lee as her greatest poetic inspiration.