You are here
100 Ways to Make $100k with Your English Degree (Paperback)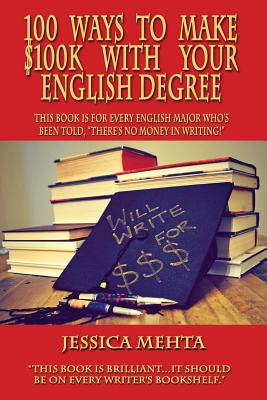 $24.70
This is a special order and can be hard to get.
Description
---
"AMAZING; SHOULD BE TAUGHT IN EVERY ENGLISH DEPARTMENT; BRILLIANT" MAKING $100K WITH AN ENGLISH DEGREE ISN'T JUST POSSIBLE, BUT EASIER THAN YOU THINK.
Contrary to popular lore, the author, a successful freelance writer, shows readers that an English degree can be both a practical and profitable gateway to earning a six-figure income. The manuscript is filled with useful tactics and tips, but it also makes clear that the reader's own initiative and discipline are equally important to achieving successful results. 100 Ways to Make $100K with your English Degree isn't a get rich quick scheme, a hack or a scam. It details numerous avenues for increasing your profits as a writer and English degree holder. Included are hard lessons others have already learned, such as which niche industries are most lucrative and why writers should never settle for an hourly or salary wage.
"Having an English degree is frequently frowned upon but, now with the digital age in full swing, they're more profitable than ever. This book tells you EXACTLY what you need, and don't need, to begin a profitable writing career right out of the gate (from the commencement ceremony . Jessica's unveiled the 'secrets' that should be taught in every English department around the country."-Drew Hendricks, Co-founder of Hostt, Marketing Director of Bitfinitum, and Contributor at The Huffington Post, Forbes, Inc., & Entrepreneur Magazine.
"These 100 strategies are all valid and very viable. This book is not based on some empty promise - whether you want to make a living full time writing or do it for extra side income, you will benefit immensely from the tips, strategies and solid advice Jessica offers."- Lisa Orrell, The Promote U Guru: Publicist, Branding & Marketing Expert for Authors.
"As someone with the full gamut of English degrees (BA, MFA, Ph.D.), I've received the looks from well-meaning friends and family and sometimes even the direct question, 'But how will you support yourself?' Jessica Mehta's book, 100 Ways to Make $100K with your English Degree, arms you with excellent answers to that question and amazing career advice."- Brandi Granett, author, archer and writing mentor (Ph.D. in Creative Writing from Aberystwyth University in Wales, an MFA in Fiction from Sarah Lawrence College, an M.Ed in Adult and Distance Education from Penn State).
"Many well-trained writers, even masters of their craft, learn the hard way that making a living solely as a book author is incredibly hard. With 100 Ways to Make $100K with your English Degree Jessica points out that building a career as a writer is filled with financial possibilities. This book is brilliant - from accepting the lack of stability to understanding taxes, job searching every single day to self-care - it should be on every writer's bookshelf."-Nancy C. Cleary, independent publisher & author of A Book is Born.
"Enough with the English-major bashing You can make a comfortable living as a writer. In this highly practical little book, Jessica Mehta shows you how to use your words for maximum profit."- Suzanne Kamata, English major living and working in Japan, Author of The Beautiful One Has Come: Stories and Screaming Divas.