You are here
A Handful of Quiet: Happiness in Four Pebbles (Hardcover)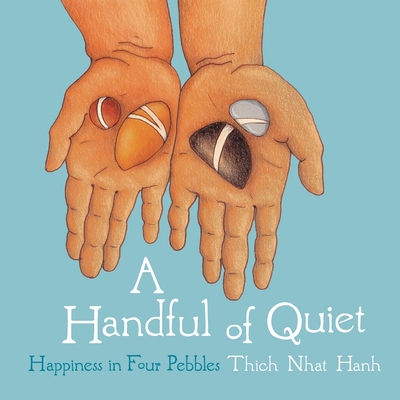 $14.95

Usually Ships in 1-5 Days
Description
---
A playful, illustrated guide to one of the best known and most innovative meditation practices for young children experiencing stress, difficulty focusing, and difficult emotions
 
Developed by Thich Nhat Hanh as part of the Plum Village community's practice with children, pebble meditation is a playful and fun activity that parents and educators can do with their children to introduce them to meditation. It is designed to involve children in a hands-on and creative way that touches on their interconnection with nature. Practicing pebble meditation can help relieve stress, increase concentration, nourish gratitude, and can help children deal with difficult emotions.

A Handful of Quiet is a concrete activity that parents and educators can introduce to children in school settings, in their local communities or at home, in a way that is meaningful and inviting. Any adult wishing to plant seeds of peace, relaxation, and awareness in children will find this unique meditation guide helpful. Children can also enjoy doing pebble meditation on their own.
About the Author
---
Thich Nhat Hanh was a world-renowned spiritual teacher and peace activist. Born in Vietnam in 1926, he became a Zen Buddhist monk at the age of sixteen. Over seven decades of teaching, he published more than 100 books, which have sold more than four million copies in the United States alone. Exiled from Vietnam in 1966 for promoting peace, his teachings on Buddhism as a path to social and political transformation are responsible for bringing the mindfulness movement to Western culture. He established the international Plum Village Community of Engaged Buddhism in France, now the largest Buddhist monastery in Europe and the heart of a growing community of mindfulness practice centers around the world. He passed away in 2022 at the age of 95 at his root temple, Tu Hieu, in Hue, Vietnam.