You are here
Animal 3: Revelations (The Animal Series #3) (Paperback)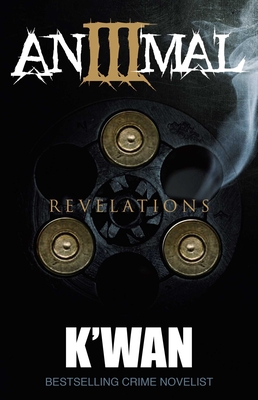 $16.99

Usually Ships in 1-5 Days
Description
---
After making a promise to leave the street life behind, a shocking revelation forces Animal back into the game to face his greatest opponent yet.

After years of war on the streets the man known only as Animal is finally able to hang up his guns. He's paid his debt to society for the crimes he's committed, and thanks to the sacrifice made by the father he barely knew, old scores have been settled. For the first time in his life, he's able to find the peace that had eluded him for so long and settle down with his wife Gucci and their son T.J. Animal's future is looking bright—that is, until someone from his past resurfaces with a shocking revelation.

When Animal's former lover, Red Sonja, shows up on his doorstep with a little girl, claiming Animal is the father, he and Gucci immediately fear it's a ploy for money. But Red Sonja has come to collect a debt of a different kind, one that can only be paid in blood. A powerful man is hunting Red Sonja and her daughter, and she calls on Animal to stop him—permanently.

Animal is forced to break the promise he made to his wife upon his release from prison and once again picks up his guns. To keep his daughter and her mother safe, Animal sets out on a mission of murder, but this isn't just any man Red Sonja has sent him after, it's one of the most powerful drug dealers in the country—her father.
About the Author
---
K'wan is the #1 bestselling author of Welfare Wifeys, Section 8, Gutter, Still Hood, Hood Rat, Eve, Hoodlum, Street Dreams, Gangsta, Road Dawgz and now Animal. Animal was chosen as one of the five Best Books of 2012 and the starred pick of the month for October on Library Journal. K'wan has also been featured in Time, King, The New York Press, and on MTV and BET. K'wan currently resides in New Jersey where he is working on his next novel.