You are here
Back to top
How Music Works (Hardcover)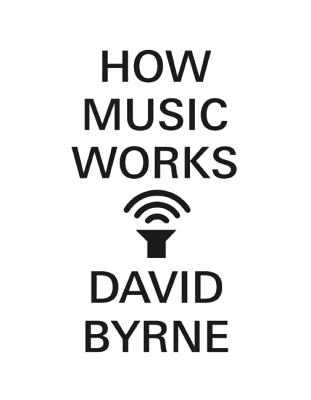 Description
---
"How Music Works" is David Byrne's remarkable and buoyant celebration of a subject he has spent a lifetime thinking about. In it he explores how profoundly music is shaped by its time and place, and he explains how the advent of recording technology in the twentieth century forever changed our relationship to playing, performing, and listening to music.
Acting as historian and anthropologist, raconteur and social scientist, he searches for patternsand shows how those patterns have affected his own work over the years with Talking Heads and his many collaborators, from Brian Eno to Caetano Veloso. Byrne sees music as part of a larger, almost Darwinian pattern of adaptations and responses to its cultural and physical context. His range is panoptic, taking us from Wagnerian opera houses to African villages, from his earliest high school reel-to-reel recordings to his latest work in a home music studio (and all the big studios in between).
Touching on the joy, the physics, and even the business of making music, "How Music Works" is a brainy, irresistible adventure and an impassioned argument about music's liberating, life-affirming power.

About the Author
---
David Byrne is a Scottish-born Rock and Roll Hall of Famer and cofounder of Talking Heads. He has been the recipient of many awards, including an Oscar and a Golden Globe. The author of "Bicycle Diaries" and "The New Sins," Byrne lives in New York City.
Praise For…
---
"From the former Talking Heads frontman, a supremely intelligent, superbly written dissection of music as an art form and way of life...Byrne touches on all kinds of music from all ages and every part of the world... Highly recommendedanyone at all interested in music will learn a lot from this book."
Kirkus (Starred Review)

"In this fascinating meditation, Talking Heads frontman Byrne (Bicycle Diaries) explores how social and practical context, more than individual authorship, shaped music making in history and his own career... his chapters on Heads recording sessions are some of the most insightful accounts of musical creativity yet penned. The result is a surprising challenge to the romantic cliché of musical genius... Byrne's erudite and entertaining prose reveals him to be a true musical intellectual, with serious and revealing things to say about his art."
Publishers Weekly (Starred Review)

David Byrne is a brilliantly original, eccentric rock star, and he has written a book to match his protean talents ... What's best about [it] is that Byrne concentrates on his own experience, from a teenage geek splicing layers of guitar feedback on his father's tape recorder (he had a mild self-diagnosed case of Asper­ger's syndrome, he writes) to arty if neo-primitive rock star with the early Talking Heads at CBGB to increasingly sophisticated, globe-wandering art-rocker, happily collaborating with all manner of world musicians and pop-technological innovators."John Rockwell, The New York Times Book Review

"Endlessly fascinating, insightful, and intelligent."
June Sawyers, Booklist (Starred Review)

"[How Music Works is] the book [Byrne] was born to write. I could make a good case for calling this How Art Works or even How Everything Works."Cory Doctorow, Boing Boing

"Byrne explores a whole symphony of argument in this extraordinary book with the precise, technical enthusiasm you'd expect from the painfully bright art school-educated son born in Scotland, raised in the States of an electrical engineer, occasionally mopping his fevered brow in the crestfallen manner of a 19th-century poet... It's fascinating."Mark Ellen, The Guardian

"'How Music Works,' is as engaging as it is eclectic: a buoyant hybrid of social history, anthropological survey, autobiography, personal philosophy, and business manual, sometimes on the same page... We're changed. Even for the most ardent explorers (and Byrne is one) this is some seriously unknowable territory."The Boston Globe

By all accounts, Byrne's style and energy are as apparent on the page as on the stage."Kathryn Schulz, New York Magazine

[Byrne] wraps his keen cultural insights in a sheath of self-aware subjectivity and unapologetic personal conviction, with just the right amount of conversational candor"Maria Popova, Brain Pickings

"How Music Works is a good read for anyone interested in art and technology and how creativity has been transformed in the digital age."Bryant Frazer, Studio Daily

Truly dazzling, covering a staggering scope of topics ... Almost every page [is] a song." Jason Heller, The Onion A.V. Club

In the course of How Music Works, Byrne integrates his discussion of all the issues of recording and live performance into a personal account of his own career. Although this book stops short of turning into a memoir or autobiography, fans seeking a behind-the-scenes account of Byrne's life and times won't be disappointed ... An essential guide to performance and recording, honest and up-to-date, and filled with both practical advice and insightful commentary."Ted Gioia, The San Francisco Chronicle

Bob Dylan, Keith Richards, Jay Z, even Daniel Lanois have all given us books in recent years. And they've all been interesting and worth reading. But none of them is as good as David Byrne's book ... He weaves his account of the evolution of music from animals to humans and the history of changes in the way music studios work into the most accessible and unpretentious narrative of such a story that I have yet come across."David Rothenberg, The Globe and Mail

A decidedly generous book welcoming, informal, digressive, full of ideas and intelligence and one has the pleasant sense that Byrne is speaking directly to the reader, sharing a few confidences he has picked up over the years. " Tim Page, The Washington Post

An accomplished celebration of an ever-evolving art form that can alter how we look at ourselves and the world... a meticulously researched and hugely absorbing history of music"Fiona Sturges, The Independent

An entertaining and erudite book, from a figure who has spent his career proving that those two adjectives can happily coexist ... The chapter on the economics of music should be required reading for all 16-year-olds tinkering with their GarageBand software and dreaming of dollar signs, while the section on How to Make A Scene" is nothing less than a manual for urban regeneration through pop culture ... A serious, straightforward account of an art form that also manages to be inspiring. You could do a lot worse than use it as a thinking-outside-the-box management manual or a college primer. Art and Society 101: Stop Making Sense."Peter Aspden, Financial Times

David Byrne deserves great praise for How Music Works. It is as accessible as pop yet able to posit deep and startlingly original thoughts and discoveries in almost every paragraph ... This book will make you hear music in a different way.Oliver Keens, The Telegraph

Smart and impeccably researched ... A text to read and pick through time and again ... all this is what you'd expect, and hope for, from the foremost heady apologist of pop music. It's a must-read for anyone who has ever felt moved by a catchy tune and wanted more."James Ramsay, BlackBook