You are here
Back to top
Top Gear: Where's Stig? (Hardcover)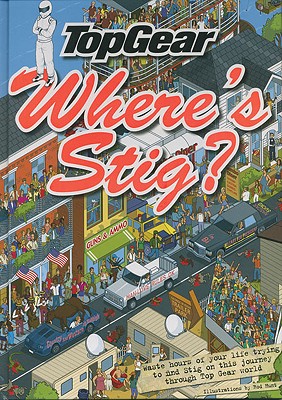 This book is rarely available; email elisa at anotherreadthrough.com if you'd like her to try to find it elsewhere for you.
Description
---
The mysterious Stig, Top Gear's resident racing driver and one of the most popular members of the TG team, has finally got a book of his own. But fans will have to work hard to find him, as he's been cleverly concealed in a series of brilliantly drawn scenes. He might be spotted getting down with the kids at a rock festival; or overseeing his workforce in his secret underground lair. He could be one of the spectators lining the route of Bonneville Salt Flats Speed Week; or soaking up the sun on the Costa del Stig. Filled with visual jokes and references to the TV series, and with extra credits for spotting his colleagues at Top Gear and a few other hidden gems, Where's Stig? will give Top Gear fans hours of fun.
About the Author
---
Matt Master is a features writer and road tester for Top Gear magazine, and the author of Top Gear's Midlife Crisis Cars. Rod Hunt is an illustrator whose clients include BBC, the Economist, IKEA, Maxim, and Syfy Channel.