You are here
Back to top
Erotic Sex Short Stories: The Explicit, the Forbidden, the Taboo, the Alternative, the Hot. All Your Dirty Dreams Are in This Ultimate Collectio (Paperback)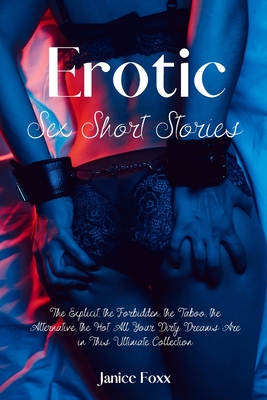 $24.95
This is a special order and can be hard to get.
Description
---
⭐️ 55% OFF for Bookstores NOW at $ 24,95 instead of $ 38, 70 ⭐️
Are you looking for something exceptionally dirty and provocative? Do you love erotica that shamelessly breaks our society's deepest taboos? If you Aren't afraid of breaking deep-seated taboos...
Then, this book is for you so keep reading.
"The greatest pleasure in life is doing what people say you cannot do". (Walter Bagehot)
We all have wild sexual fantasies that we wish could come to life. Some are taboo though so we know they can't happen in our real world but we still think about them, if presented with the opportunity to fantasize about them
That's what this book aims to achieve; push the boundaries of what's possible in your world so that you get a peek of the taboo wild sex fantasies that are deeply embedded in your mind
Your Customers will never stop to use this book.
Here's what lies in store for you:
- Erotic sex stories that will help unleash your wildest fantasies by freeing you of the guilt and pushing your sexual desires to the limit.
- Hot sex ideas to try out with your partner.
- Sex stories that will excite you and intrigue you to know the dirty doings, naughty romps and rough poundings of other people.
- Vivid, uncensored descriptions that will provoke your imagination and make you enjoy every word.
- Masterfully crafted storylines that slowly build up erotic tension up to an explosive moment of ultimate pleasure.
These outrageous erotic sex stories will be absolutely unforgettable. They'll make you experience surprise, curiosity, excitement, arousal and finally, extraordinary pleasure. They'll let you indulge in dirty fantasies that are deemed unspeakable in our society. They'll make you lust for more.
Get a chance to indulge in your wildest fantasies... I'll give you what you're afraid to ask for.
Buy it NOW and let your customers get addicted to this amazing book.