You are here
Back to top
Murder by the Bookend (An Antique Bookshop Mystery #2) (Hardcover)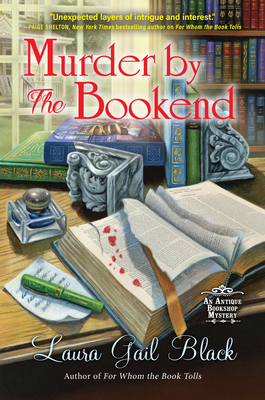 $26.99

Usually Ships in 1-5 Days
Description
---
Antiquarian bookseller Jenna Quinn sleuths again when a pair of glass bookends puts an end to a librarian's life, in this second installment of Laura Gail Black's cozy series.

The quaint warehouse district of Hokes Folly, NC, is hopping despite the drizzly November chill. The occasion? The mountain town's beloved antiquarian bookstore, Twice Upon a Time, is throwing a bash for its grand reopening. But bookseller Jenna Quinn's peace of mind is shattered when the local library's Director of Antique Books turns up dead in the parking lot--his head bashed in by a glittering pair of vintage glass bookends.

As they examine the murder scene, Jenna and her police detective boyfriend happen upon the only witness--the victim's dog, who flees the scene leaving a trail of bloody footprints behind. If only dogs could speak, Jenna might be able to make quick work of the murder case and get back to stocking her bookcases.

Alas, finding the killer won't be so easy, even though this is not Jenna's first murder investigation--indeed, she inherited Twice Upon a Time from her slain uncle. The suspect list is voluminous--the late librarian had not-so-friendly run-ins with numerous guests--but suspicion eventually centers on three unsavory individuals who left the party shortly before the victim did.

Now, Jenna must edit her inventory of suspects from three names to one, before the bloodthirsty bookend-wielder becomes the author of Jenna's demise.
About the Author
---
Laura Gail Black writes cozy mysteries on the beautiful shores of Lake Marion in South Carolina, where she lives with her husband and four rescue dogs. She began collecting antique books when she worked in a used antique bookstore in college. Today, Laura's bookshelves contain many antique books, some of which are close to 200 years old. When not writing or playing with her dogs, Laura creates her own jewelry, crochets, cross-stitches, spends time on the water with her husband, and enjoys all things tea.
Praise For…
---
Praise for Murder by the Bookend:
"A small town setting, with quirky characters, highlights this next adventure of murder."
—Red Carpet Crash

"This will appeal to fans of cozies set in bookstores and libraries, such as those by Dorothy St. James and Eva Gates."
—Booklist

"A 'whodunnit' mystery lover's delight from first page to last"
—Midwest Book Review

Praise for For Whom the Book Tolls:
"[A] promising debut and series launch."
—Publishers Weekly

"An appealing debut peopled with believable characters and a well-ordered mystery."
—Kirkus
 
"Full of delightful characters and enough twists and turns to keep readers guessing."
—Manhattan Book Review

"Details of small town life in a colorful locale add to the color and piquancy of this cozy mystery."
—Midwest Book Review

"The mystery is solid, the characters interesting, the new friendships and relationships are intriguing, and I look forward to the next book in the series."
—MyShelf.com

"An enjoyable premise, small-town charm, and memorable secondary characters."
—Fresh Fiction

"This cozy mystery has unexpected layers of intrigue and interest. You'll love all the characters, and the mystery will keep you guessing. You won't want to miss this one."
—Paige Shelton, New York Times bestselling author of the Scottish Bookshop mysteries

"A small Southern town, a spirited sleuth, and a cozy bookshop add up to a fast-paced mystery book-loving readers will cheer for."
—Elizabeth Craig, bestselling author of the Southern Quilting mysteries

"A first-rate addition to the genre."
—Kaitlyn Dunnett, author of the Deadly Edits mysteries 
 
"A small town, a bookstore, a body, a spunky heiress with a controversial past, and a secret treasure hunt: all these elements make for a very fun cozy read!"
—Julia Buckley, author of the Writer's Apprentice mysteries
 
"Prepare to be charmed!"
—Connie Berry, author of the Kate Hamilton mysteries