You are here
Fatality in F (Gethsemane Brown Mystery #4) (Paperback)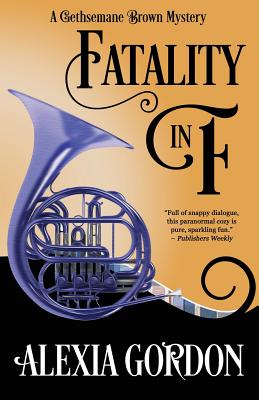 $15.95

Usually Ships in 1-5 Days
(This book cannot be returned.)
Description
---
Fresh from solving her third mystery--and saving Dunmullach's firstborn males from a vengeful ghost--Gethsemane Brown's ready to relax and enjoy her summer. Her plans include nothing more dangerous than performing in the opening ceremony of the annual rose and garden show and cheering on Frankie Grennan, who's entered his hybrid rose into the competition.
But when a mysterious stalker starts leaving Frankie floral bouquets as coded messages, Gethsemane fears a copy-cat may be planning to recreate the still-unsolved murders of the infamous Flower Shop Killer. Then Frankie's main competitor in the rose show--and the reason his marriage failed--turns up dead in Frankie's rose garden. Frankie takes first prize in the category "prime suspect".
So much for a relaxing summer.
As bodies start dropping like rose petals, Gethsemane must judge the other suspects and find the real killer. Or rose bushes won't be the only things dead-headed in Dunmullach.
- - - - - - - - - - - - -
FATALITY IN F by Alexia Gordon A Henery Press Mystery. If you like one, you'll probably like them all.