You are here
Trauma-Sensitive Yoga Deck for Kids: For Therapists, Caregivers, and Yoga Teachers (Cards)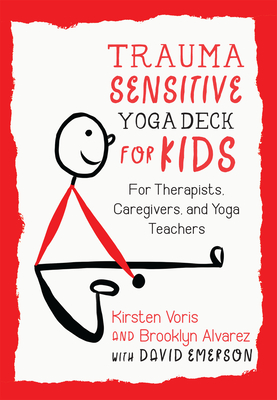 $28.55

Usually Ships in 1-5 Days
Description
---
This deck of 50 yoga shapes was created for trauma-sensitive yoga facilitators and other counselors, social workers, and caregivers who work with children. Unlike a traditional yoga deck, this one is trauma informed, somatic focused, and ideal for use in a variety of settings including small groups, classrooms, and one-on-one. Facilitators are free to create a shared, authentic experience that is non-coercive and non-prescriptive. The booklet included with the deck offers an array of games and explorations.
About the Author
---
DAVID EMERSON is the founder and director of Yoga Services for the Trauma Center at the Justice Resource Institute in Brookline Massachusetts, where he coined the term "trauma-sensitive yoga" (TSY). He was responsible for curriculum development, supervision and oversight of the yoga intervention component of the first of its kind, NIH funded study, conducted by Dr. Bessel van der Kolk to assess the utility and feasibility of yoga for adults with treatment-resistant PTSD. Emerson has developed, conducted, and supervised TSY groups for rape crisis centers, domestic violence programs, residential programs for youth, military bases, survivors of terrorism, and Veterans Administration centers and clinics. In addition to co-authoring several articles on the subject of yoga and trauma, Emerson is the co-author of Overcoming Trauma through Yoga, (North Atlantic Books, 2011) and author of Trauma-Sensitive Yoga in Therapy (Norton, 2015). He leads trainings for yoga teachers and mental health clinicians in North America, Europe, and Asia.​

KIRSTEN VORIS (RYT-200, TCTSY-F) is a former secondary school teacher and adult educator who completed her initial yoga certification in Ankara, Turkey. Her interest in yoga as a tool for personal integration led her to Yin Yoga and the research-based Trauma Center Trauma Sensitive Yoga (TCTSY). She has facilitated TCTSY for volunteer aid workers in Cusercoli, Italy and brought TCTSY to therapists through a PESI trauma retreat in Sedona, Arizona. In addition to facilitating TCTSY for private clients in and around Tucson, Arizona, Voris has been the TCTSY provider for youth and children through a tribal health service in Southern Arizona. She offers an introduction to TCTSY to fourth year medical students and medical residents at the University of Arizona Center for Integrative Medicine.

BROOKLYN ALVAREZ is a clinical psychologist-in-training (doctoral degree expected 2021), certified Kripalu yoga teacher, and avid student of Buddhist psychology and mindfulness meditation. Alvarez's personal and professional experiences have inspired in her a fervent aspiration to specialize in the treatment of developmental trauma and, ultimately, to disrupt systemic hegemony.