You are here
Back to top
How We Do Family: From Adoption to Trans Pregnancy, What We Learned about Love and LGBTQ Parenthood (Hardcover)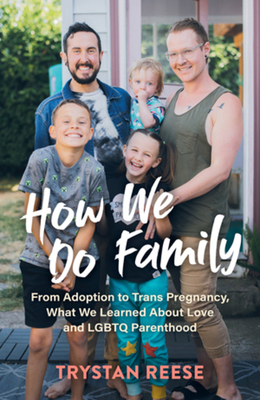 $24.95
Coming Soon - Available for Pre-Order Now
Description
---
An LGBTQ family's inspiring story of building a loving home, with lessons all families can use

When Trystan Reese was just a year into his relationship with Biff (now his husband), the couple learned that Biff's niece and nephew were about to be removed from their home by Child Protective Services. Immediately, Trystan and Biff took in one-year-old Hailey and three-year-old Lucas, becoming caregivers overnight to two tiny survivors of abuse and neglect.

From this surprising start, Trystan and Biff built a loving marriage and happy home—learning to parent on the job. They adopted Hailey and Lucas, and soon decided to grow their family biologically with a child that Trystan, who is transgender, would carry. Trystan's groundbreaking pregnancy attracted media fanfare, and the family welcomed baby Leo in 2017.

In How We Do Family, Trystan shares their unique story and what he's learned about being the best parent, partner, and person you can be. Through crisis, adoption, pregnancy—and all the usual challenges of parenting—Trystan shows that more important than getting things right is doing them with love.
About the Author
---
Trystan Reese launched into the public eye as "the pregnant man" in 2017 when the story of his family's unique journey gained international media attention. He was invited to give closing performances for The Moth Mainstage in Portland, Albuquerque, and Brooklyn; a video of the Brooklyn event has garnered over 2.5 million views. As interest in his family's story grew, Trystan partnered with many major media outlets, including CNN, NBC, People, and Buzzfeed.

Trystan is an established thought leader, educator, and speaker, focusing on diversity, equity, and inclusion. He is a professionally trained anti-racism facilitator and has been organizing within the trans community for nearly two decades. The founder of his own consulting firm, Collaborate Consulting, Trystan provides customized training solutions for individuals, organizations, and communities that are interested in social justice. He is married to his partner Biff and they live in Portland, Oregon with their three kids: Lucas, Hailey, and Leo. They are very happy. 
Praise For…
---
"This narrative of an extraordinary family describes what it's like to be a trans father, a pregnant man, an adoptive father—what it's like to invent and enact new relational structures. Trystan Reese writes with great tenderness and compassion, and also with a well-considered agenda of political and social activism. This rollicking book will release love that might otherwise have remained buried; it limns the exact quality of joy that can inhere in inventing not only yourself, but also the world you live in."—Andrew Solomon, National Book Award–winning author of The Noonday Demon and Far from the Tree

"You can't meet Trystan and not like him. The same goes for this book. First of all, he spelled everything right. Those correctly spelled words make a great read about Trystan and his pregnancy. Yes. His. See I told you this book was going to be good. You're gonna learn stuff but you'll like it."—Willam