You are here
How We Do Family: From Adoption to Trans Pregnancy, What We Learned about Love and LGBTQ Parenthood (Hardcover)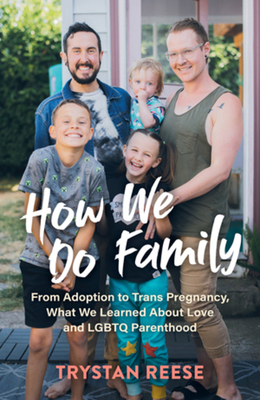 $24.95

Usually Ships in 1-5 Days
Description
---
As featured in People magazine: One LGBTQ family's inspiring, heartfelt story of the many alternative paths that lead to a loving family, with lessons for every parent
 
Trystan and Biff had been dating for just a year when the couple learned that Biff's niece and nephew were about to be removed from their home by Child Protective Services. Immediately, Trystan and Biff took in one-year-old Hailey and three-year-old Lucas, becoming caregivers overnight to two tiny survivors of abuse and neglect.
 
From this unexpected start, the young couple built a loving marriage and happy home—learning to parent on the job. They adopted Hailey and Lucas, tied the knot, and soon decided to try for a baby that Trystan, who is transgender, would carry. Trystan's groundbreaking pregnancy attracted media fanfare, and the family welcomed baby Leo in 2017.
 
In this inspiring memoir, Trystan shares his unique story alongside universal lessons that will help all parents through the trials of raising children. How We Do Family is a refreshing new take on family life for the LGBTQ community and beyond. Through every tough moment and touching memory, Trystan shows that more important than getting things right is doing them with love.
About the Author
---
Trystan Reese is an established thought leader, educator, speaker, and the founder of Collaborate Consulting, which provides customized training in diversity, equity, and inclusion for individuals, organizations, and communities interested in social justice. A professionally trained anti-racism facilitator, he has been organizing within the trans community for nearly two decades. He is a 2021 Lambda Literary Fellow and has been featured in The Moth, People, and BuzzFeed. He is married to his partner, Biff, and they live in Portland, Oregon, with their three kids: Lucas, Hailey, and Leo. They are very happy.
Praise For…
---
2021 Foreword INDIES Bronze Winner

"[Trystan and Biff] continue to live their lives publicly through Trystan's Instagram and new book to let others in their shoes know they aren't alone, and open more minds along the way."—People

"[This] book is joyful, insightful, and so damn lovely that you're doing yourself a disservice by not owning it."—Scary Mommy

"If the start of this family was accidental, the queer parenthood has been purposeful. How We Do Family has advice for queer and trans would-be parents on navigating legal and medical systems, as well as parents who want to rethink their family's values."—Globe and Mail

"This narrative of an extraordinary family describes what it's like to be a trans father, a pregnant man, an adoptive father—what it's like to invent and enact new relational structures. Trystan Reese writes with great tenderness and compassion, and also with a well-considered agenda of political and social activism. This rollicking book will release love that might otherwise have remained buried; it limns the exact quality of joy that can inhere in inventing not only yourself, but also the world you live in."—Andrew Solomon, National Book Award–winning author of The Noonday Demon and Far from the Tree

"A love letter to queer culture and queer strength and what people of any gender or sexuality can learn from it."—Xtra

"You can't meet Trystan and not like him. The same goes for this book. First of all, he spelled everything right. Those correctly spelled words make a great read about Trystan and his pregnancy. Yes. His. See I told you this book was going to be good. You're gonna learn stuff but you'll like it."—Willam

"This triumphant tale of unwavering love had me laughing, crying, and celebrating this beautiful family. A powerful personal story with plenty of wisdom to share on everything from LGBTQ awareness to parenting challenges—the whole world should read this book."—Amanda Jetté Knox, bestselling author of Love Lives Here: A Story of Thriving in a Transgender Family

"To read this book is to be drawn in to a family love story so compelling that you can't help but wish that Trystan and his family were your neighbors, so that you could bask in their wonder-fulness every day. How We Do Family serves both as a critically necessary educational tool as well as a captivating story of one person's dogged pursuit of personal, marital, familial, and communal health and connection. A beautiful piece of art and instruction, it offers powerful lessons in empathy, advocacy, and open-hearted partnering and parenting. Most of all, however, it tells the story of love so strong and determined that everything within it seems luminous around it's very human core. Our world would be a significantly better place if it were required reading for all."—Doreen Dodgen-Magee, PsyD, author of Restart: Designing a Healthy Post-Pandemic Life

"While 'gay trans man has a baby' is what will draw many people to this book, inside, there is much to learn about how to be a parent, a partner, and a member of a supportive community. Reese utterly dismantles the argument that children cannot thrive without a mother and a father at home."—Pride Source