You are here
The Cartel Deluxe Edition, Part 2: Books 4 and 5 (Paperback)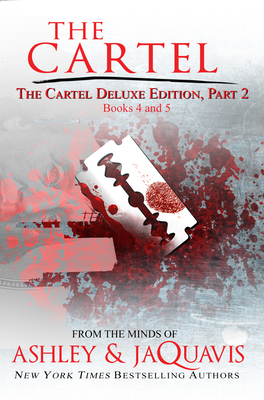 $16.95

Usually Ships in 1-5 Days
Description
---
The Cartel series by street lit superstars Ashley & JaQuavis has been a consistent New York Times bestseller, full of their trademark fast-paced drama, deceit, and plot twists that leave readers shocked. Now fans can relive the story of the Diamond family in this second deluxe edition, containing books four and five.

The Diamond family has survived murder, deceit, and betrayal. Through it all, they're still standing tall, and a new era has begun. After a failed attempt on her life, Breeze has moved into the queen's position by Zyir's side. Zyir has taken over the empire and locked down Miami's streets. He has the world in his palms, but there is always new blood ready to overthrow the throne.

Young Carter has retired and moved away from the madness--that is, until he gets an unexpected visitor at his home. This person shakes up the whole family, causing chaos that threatens to bring down the Cartel for good.
When a Boeing 747 drops out of the sky with the men of The Cartel aboard, the women of the family have to step into their own. With the federal government on their heels and the family on the brink of destruction, a female dynasty is born.

After the government's case is thwarted, the ladies plan to take the family legit. They head west to establish a new endeavor, but with new territory comes new problems. The Carter family name doesn't ring as loud as it did in Miami. It's a new set of gangsters, a new set of rules, as the Cartel finds problems with an Arabic millionaire. Even as the new Cartel struggles to go legit, trouble always finds a way into the family's circle. Larceny, deceit, and murder are all in the cards.
About the Author
---
Ashley & JaQuavis hit the street lit scene at the age of 17 when they were discovered by Carl Weber. Their first novel, Dirty Money, was an instant hit, putting them on the road to literary success. They have published more than twenty novels as a duo, including the New York Times bestselling Cartel series. They are pursuing movie and television projects to bring some of their blockbuster books to the big screen. Now married, the pair still lives in Flint, Michigan, the city that inspired many of their gritty urban tales.