You are here
The Young in One Another's Arms (Little Sister's Classics) (Paperback)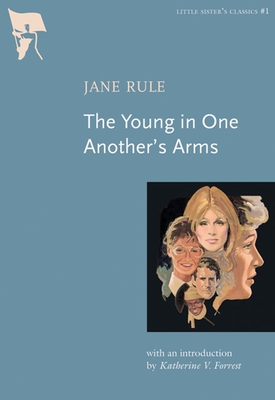 $16.95

Usually Ships in 1-5 Days
Description
---
"Make no mistake about it--Jane Rule is one of the best writers we have."--Margaret Laurence
"Lesbian identity itself is not so much subsumed into the community as kept whole within it . . . not singled out as an angle of vision any more or less valid than others."--Marilyn Schuster, Feminist Studies
Jane Rule's 1977 novel The Young in One Another's Arms is set at the end of the Vietnam War in and around a boarding house in the Kitsilano neighborhood of Vancouver. Ruth, a middle-aged woman accustomed to tragedy in her own life, cares for the young and changing boarders of her house as a mother and guide.
First published by Doubleday and reprinted by The Naiad Press, The Young in One Another's Arms is about communities and the differences between people that allow them to come together. Race, gender, sexuality and politics are reappearing themes among the characters. Young defectors from the American war gather in the house, barely able to articulate their bewilderment at life's challenges. In Rule's sparse but generous prose, the players dance around each others' lives, moving fluidly, loving, maturing, finding solace or heartbreak, each one touching the lives of all the others. The author's passion for life and stoic sensibility are evident on every page. It's a warm, sophisticated novel celebrating life in all its diversity.
The novel, one of the first ever to depict lesbians in a positive light, won the Canadian Authors Association Best Novel of the Year Award in 1978.
With an introduction by novelist Katherine V. Forrest, author of Curious Wine and Daughters of a Coral Dawn.
Little Sister's Classics is a new series of books from Arsenal Pulp Press, reviving lost and out-of-print gay and lesbian classic books, both fiction and nonfiction. The books in the series are produced in conjunction with Little Sister's Book and Art Emporium, the heroic Vancouver bookstore well-known for its anti-censorship efforts.
About the Author
---
Born in New Jersey in 1931, Jane Rule graduated from Mills College in California in 1952. She moved to Canada in 1956, where she intermittently taught at the University of British Columbia until 1976 when she moved to Galiano Island, where she continues to live today. Her novel Desert of the Heart was made into the film Desert Hearts starring Helen Shaver. Katherine V. Forrest is twice winner of the Lambda Literary Award for best mystery, and has been recently honored with the Pioneer Award from the Lambda Literary Foundation. She has been profiled in virtually every major lesbian and gay publication in America, as well as in numerous magazines and newspapers abroad. Katherine lives in San Francisco.