You are here
The Tiger's Daughter (Their Bright Ascendency #1) (MP3 CD)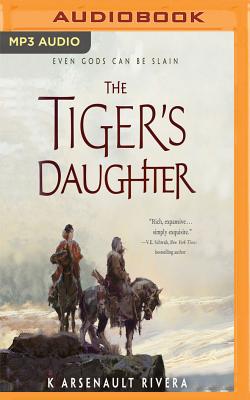 $16.49
This is a special order and can be hard to get.
October 2017 Indie Next List
---
"Badass ladies slaying demons, defying conventions, and saving the world on their own terms? Count me in. The Tiger's Daughter is an honest-to-goodness sweeping epic fantasy unlike any I have read. I don't remember ever being so excited for a new series. The characters in this story are so fully realized, the landscapes so vivid, I didn't even realize I'd been so swept away until I turned the last page. I endured with O Shizuka, princess, the divine made flesh, and finest blade in all Hokkaro; I raged with Barsalai Shefali Alsharyaa, demon slayer, horse whisperer, and infamous Qorin warrior. I didn't want to leave them, and I can't wait for the next installment."
— Heather Weldon, Changing Hands Bookstore, Tempe, AZ
Description
---
Even gods can be slain.
The Hokkaran Empire has conquered every land within their bold reach - but failed to notice a lurking darkness festering within the people. Now their border walls begin to crumble, and villages fall to demons swarming out of the forests.
Away on the silver steppes, the remaining tribes of nomadic Qorin retreat and protect their own, having bartered a treaty with the empire, exchanging inheritance through the dynasties. It is up to two young warriors, raised together across borders since their prophesied birth, to save the world from the encroaching demons.
This is the story of an infamous Qorin warrior, Barsalayaa Shefali, a spoiled divine warrior empress, O Shizuka, and a power that can reach through time and space to save a land from a truly insidious evil.
A crack in the wall heralds the end...two goddesses arm themselves....
K Arsenault Rivera's The Tiger's Daughter is an adventure for the ages.