You are here
Back to top
How to Speak Cat: A Guide to Decoding Cat Language (Paperback)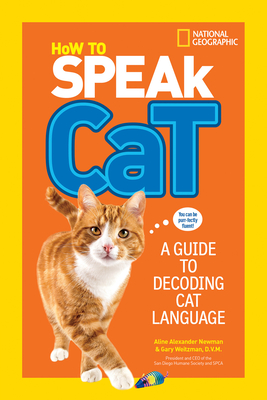 $12.99

Usually Ships in 1-5 Days
Description
---
We know cats are beautiful, secretive, and independent ... but even the most loyal cat owners are often baffled by their own pet's behavior. With veterinarian expert Dr. Gary Weitzman as guide, this fun book helps kids understand what cats are trying to communicate by their body language and behavior. So if you've ever wondered what Fluffy means when she's purring or moving her tail emphatically from left to right—this book is for you! It's full of insights, expert advice, and real-life cat scenarios, and showcases more than 30 poses, so you'll soon learn what each meow and flick of the tail means!
About the Author
---
DR. GARY WEITZMAN, is a veterinarian and President of the San Diego Humane Society, former CEO of the Washington Animal Rescue League, and host of public radio's Animal House.ALINE ALEXANDER NEWMAN is a longtime contributor to National Geographic Kids magazine and a former teacher. She's a life-long animal lover who has written over 50 magazine stories about animals from dogs to cheetahs to dolphins. Her previous books for National Geographic include How to Speak Dog, co-authored with Gary Weitzman; Ape Escapes! And more True Stories of Animals Behaving Badly, and one of Amazon's picks for Best Children's Books of 2013, Animal Superstars! And More True Stories of Animals with Amazing Talents.
Praise For…
---
"How to Speak Cat: A Guide to Decoding Cat Language" (National Geographic) busts myths and offers facts and findings from studies as well as tips on cat care. Using their voices, eyes, ears, and even tails, cats try to talk to us. Co-authors Aline Alexander Newman and veterinarian Gary Weitzman explain how to be a good listener and show how science can be fun and helpful to understanding the world around us."
- The Boston Globe
"Cat communication is often misunderstood, and this book serves as a sort of pocket translator. It's filled with vivid images which purrfectly represent descriptions of many behaviors; as they say, a picture is worth a 1,000 meows." -
The Chicago Tribune
"
With at least one appealing cat photo on every spread, this colorful book is a browser's delight for cat lovers, who will probably learn something new every time they pick it up. A useful companion volume to Newman and Weitzman's How to Speak Dog"
- Booklist