You are here
Back to top
Double Threat: A Thriller (Hardcover)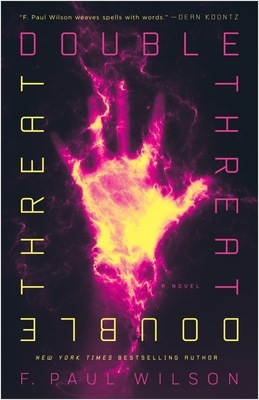 Description
---
Double Threat is a new stand-alone thriller from New York Times bestselling author F. Paul Wilson.

Daley has a problem. Her 26-year life so far has been unconventional, to say the least, but now she's got this voice in her head. It claims to be a separate entity that's going to be sharing her body from now on. At first she thinks she's schizophrenic, then considers the possibility that maybe she really has been invaded – but by what? Medical tests turn up nothing, yet the voice persists… and won't stop talking!

When she finally she accepts the reality that she has a symbiont, she discovers that together they can cure people of the incurable.

Maybe hosting a symbiont isn't such a bad thing.

She retreats to a remote town in the southwest desert to hone her healing skills. But there she runs afoul of the Pendry clan, leaders of an obscure cult that worships the Visitors who inhabited the area millions of years ago. They plan to bring them back but believe Daley is the prophesied "Duad" who will undo all the cult's efforts. She must be eliminated.

You know things are bad when the voice in your head is the only one you can trust.
About the Author
---
F. Paul Wilson is the New York Times bestselling author of horror, adventure, medical thrillers, science fiction, and virtually everything in between. His books include the Repairman Jack novels—including Ground Zero, The Tomb, and Fatal Error—the Adversary cycle—including The Keep—and a young adult series featuring the teenage Jack. Wilson has won the Prometheus Award, the Bram Stoker Award, the Inkpot Award from the San Diego ComiCon, and the Lifetime Achievement Award of the Horror Writers of America, among other honors. He lives in Wall, New Jersey.
Praise For…
---
Praise for F. Paul Wilson
"F. Paul Wilson weaves spells with words." —Dean Koontz

"As good as the best of Robin Cook." —James Patterson

"F. Paul Wilson is the master of making the unbelievable believable." —Steve Berry

Praise for the Repairman Jack series
"The Tomb is one of the best all-out adventure stories I've read in years." —Stephen King

"Repairman Jack is one of my favorite characters." —Charlaine Harris