You are here
Back to top
Dopefiend (Mass Market)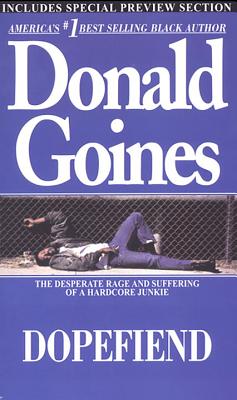 $7.99
This is a special order and can be hard to get.
Description
---
The true black voice of his generation, Donald Goines wrote novels that nailed the harsh realities of the urban experience deep into the psyche of today's hip hop culture, influencing major artists from Jay-Z and 50 Cent to Nas and Ghostface Killah. Dopefiend is his classic descent into the junkie's harrowing nightmare…

Teddy finally got the girl of his dreams. Together, Teddy and Terry filled people with admiration wherever they went. Young, gifted, and black, the future was theirs for the taking. But Teddy had a small little addiction. Then Terry had a taste. Then life took a wrong turn into the darkest, vilest back alleys. Drawing from years of his own addiction to heroin, Goines holds nothing back in this graphic, unflinching tale of lives destroyed by drugs. Each page tells it like it is—the whole truth and nothing but the truth—which keeps you coming back for more.

Praise for Donald Goines and His Novels

"Written from ground zero… the voice of the ghetto itself." —The Village Voice

"He lived by the code of the streets." —New Jersey Voice
About the Author
---
Donald Goines was born in Detroit, Michigan. He joined the U.S. Air Force instead of going into his family's dry cleaning business. Following his service, he entered into a life of drug addiction and crime. He received seven prison sentences, serving a total of over six years. While he was in prison, Goines wrote his first two novels, Dopefiend: The Story of a Black Junkie and Whoreson: The Story of a Ghetto Pimp. Goines was shot to death in 1974.