You are here
A Treasury of African American Christmas Stories (Hardcover)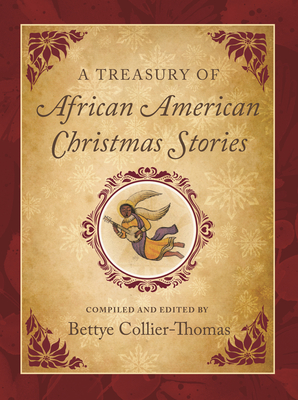 Description
---
An Esquire "Best Christmas Book to Read During the Holidays"

A collection of Christmas stories written by African-American journalists, activists, and writers from the late 19th century to the modern civil rights movement.

Back in print for the first time in over a decade, this landmark collection features writings from well-known black writers, activists, and visionaries such as Pauline Hopkins, Langston Hughes, and John Henrik Clarke along with literary gems from rediscovered writers. Originally published in African American newspapers, periodicals, and journals between 1880 and 1953, these enchanting Christmas tales are part of the black literary tradition that flourished after the Civil War.

Edited and assembled by esteemed historian Dr. Bettye Collier-Thomas, the short stories and poems in this collection reflect the Christmas experiences of everyday African Americans and explore familial and romantic love, faith, and more serious topics such as racism, violence, poverty, and racial identity. Featuring the best stories and poems from previous editions along with new material including "The Sermon in the Cradle" by W. E. B. Du Bois, A Treasury of African American Christmas Stories celebrates a rich storytelling tradition and will be cherished by readers for years to come.
About the Author
---
Bettye Collier-Thomas is professor of American history at Temple University. Her scholarship includes American social and cultural history, African American women's history, religion, civil rights, and electoral politics. Dr. Collier-Thomas is the author of numerous award-winning books. Her most recent, Jesus, Jobs, and Justice: African American Women and Religion, was reviewed and cited in the New York Times as an Editor's Choice, won a National Women's Political Caucus's EMMA award for excellence in elevating the civil discourse on issues affecting women, and received awards from the Organization of American Historians and the Association of Black Women Historians. Her previous award-winning books include Sisters in the Struggle: African American Women in the Civil Rights–Black Power Movement (as coeditor) and Daughters of Thunder: Black Women Preachers and Their Sermons. She has received multiple fellowships and grants from the Lilly Endowment, Rockefeller and Ford Foundations, National Endowment for the Humanities, National Humanities Center, and Woodrow Wilson International Center for Scholars.
Praise For…
---
"If you're lured in by writers you know and love, like Langston Hughes and W .E. B. Du Bois, go ahead and get comfortable, because you're bound to discover so many more."
—Esquire

"One of the greatest Christmas gifts ever was the one given on Christmas Day: to bid us free to become better human beings. There will be for quite some time the question of how well we have used that gift. Some have used it to keep others down; some have used it as an excuse for plunder and mayhem; some have used it as a basis for love and forgiveness. A Treasury of African American Christmas Stories gives us all the gift of engaging our hearts and minds in the true stories of Christmas."
—Nikki Giovanni

"I remember when I first picked up Bettye Collier-Thomas's lovely collection of African American Christmas stories over two decades ago. My daughter was seven at the time and the book was like a dream come true. Here was a veritable who's who of Black writers, whose powerful stories and poems ran the gamut of literary expressions—from the tragic to the comic, fables to romance. A book for all seasons, these stories are bound to amuse, educate, and inspire all kids, from one to ninety-two."
—Robin D. G. Kelley, author of Freedom Dreams