You are here
Back to top
A Symmetry: Poems (Hardcover)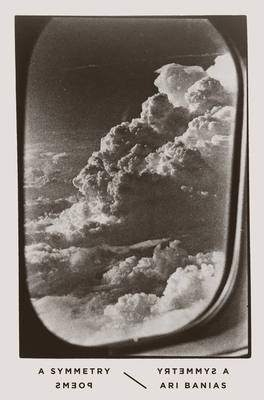 $26.95

Usually Ships in 1-5 Days
Description
---
A thrilling, discursive second collection from "a poet for this hour—bewildered, hopeful, and cracklingly alive" (Mark Doty).
Unsettling the myth of an ordered reality through uncanny repetitions and elliptical inquiry, A Symmetry considers the inscriptions of nationhood, language, and ancestral memory. A window washer wields an impossibly long mop in the mirrored pane of a Greek government building; strangers mesmerize us while they fold sheets into perfect corners. "Artists who design border wall prototypes are artists / who say they 'leave politics out of it.'"
In meditative wanderings and compressed, enigmatic lyrics, Ari Banias probes the sometimes-touching, often-violent mundane to draw out the intimate, social proportions of our material world.
About the Author
---
Ari Banias is the author of Anybody, a finalist for the Kate Tufts Discovery Award and the PEN Center USA Award for Poetry. His poems have appeared in the Kenyon Review, Poetry, and the Nation, among other publications. He lives in Oakland, California.
Praise For…
---
Expansive... Banias's chief strength as a poet lies in observation... In this memorable work, Banias offers readers a guide to seeing the world, and its incongruences, more clearly.
— Publishers Weekly

These poems are a talisman I want to wear around my neck, an eye that wards off evil by looking at what's before it with unflinching commitment and devotion. Awake to possibility and care in the half-light of our belated era, they give this reader shelter from 'the structures crumbling' around us. Bursting with energy and attention and love — this book offers us the world.
— Eleni Sikelianos, author of Make Yourself Happy

In A Symmetry, Ari Banias attunes to unacquainted frequencies with great precision and extraordinary craft gauging the flow, intensity, and impact of sensuality—alternating between brutal excesses and incalculable joys. Every line holds. Reading this book is like feeling gravity. One walks unaware of the pull until the incline's encounter.

— Gregg Bordowitz, author of Volition and Tenement

The surge, the swell, and the casual mutability of the borders and breaks that ensconce our world are laid bare in A Symmetry, Ari Banias's incandescent new collection of poems... His work comes alive at the edges, the thresholds, and the charged moment where distance can finally collapse.

— Asiya Wadud, author of No Knowledge Is Complete Until It Passes Through My Body

Ari Banias' poetry sits in an abandoned chair under the overpass, atop an 'oil slick on the Aegean' looking 'at, not through' reality's immeasurables, holding it all in mind so we can also hold it. . . . The paper antiquity of NYC coffee cups and 'A doric column / squatting in a strip mall' and 'the discotheque / painted tourist pink with a classical name' evoke the churn of some perpetual history whose action-reaction is embodied in the motion of lyrical meter and the news reports this book takes apart. The poet calls it: 'A yellow butterfly that has no interest in me. / I have no interest in kings.' Such cosmic foreshortening disembarrasses the poem from imperial valence until all that's left of the book is 'just the tree.' When Ari Banias says 'don't be sorry for the future sand / this stone wall will become' one can almost let it go. Almost.
— Ana Božicevic, author of JOMO