You are here
Revolutionary Road (Vintage Contemporaries) (Paperback)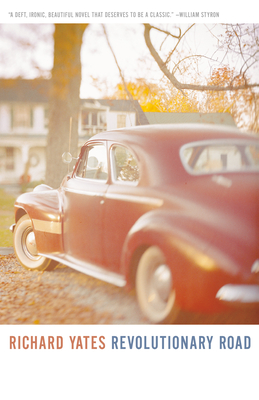 Spring/Summer '09 Reading Group List
---
"Set in the Connecticut suburbs of 1955, Revolutionary Road portrays the essential, continuing, now exacerbated American dilemma: How a young person might well live in America without conforming to the tedium of upward mobility and suburban family life. Nothing I have ever been told could have prepared me for this book's brilliance."
— Richard Howorth, Square Books, Oxford, MS
Description
---
In the hopeful 1950s, Frank and April Wheeler appear to be a model couple: bright, beautiful, talented, with two young children and a starter home in the suburbs.

Perhaps they married too young and started a family too early. Maybe Frank's job is dull. And April never saw herself as a housewife. Yet they have always lived on the assumption that greatness is only just around the corner. But now that certainty is about to crumble.With heartbreaking compassion and remorseless clarity, Richard Yates shows how Frank and April mortgage their spiritual birthright, betraying not only each other, but their best selves.
In his introduction to this edition, novelist Richard Ford pays homage to the lasting influence and enduring power of Revolutionary Road.
About the Author
---
RICHARD YATES was born in 1926 in New York and lived in California. His prize-winning stories began to appear in 1953 and his first novel, Revolutionary Road, was nominated for the National Book Award in 1961. He is the author of eight other works, including the novels A Good School, The Easter Parade, and Disturbing the Peace, and two collections of short stories, Eleven Kinds of Loneliness and Liars in Love. He died in 1992.
Praise For…
---
"The Great Gatsby of my time...one of the best books by a member of my generation." —Kurt Vonnegut"Beautifully crafted...a remarkable and deeply troubling book." —Michiko Kakutani, The New York Times