You are here
Back to top
Spirit Song: Afro-Brazilian Religious Music and Boundaries (Hardcover)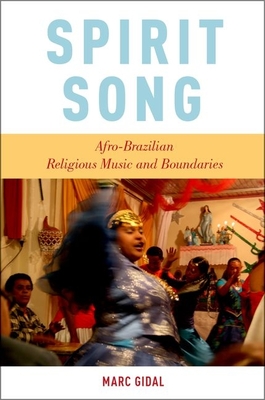 $168.75
This is a special order and can be hard to get.
Description
---
In Spirit Song: Afro-Brazilian Religious Music and Boundaries, Marc Gidal investigates how and why a multi-faith community in southern Brazil utilizes music to combine and segregate three Afro-Brazilian religions: Umbanda, Quimbanda, and Batuque. Combining ethnomusicology and symbolic boundary
studies, Gidal advances a theory of musical boundary-work: the ways music reinforces, bridges, or blurs boundaries, whether for personal, social, spiritual, or political purposes. Gidal focuses on spirit-mediumship rituals and their musical accompaniment, exploring how the Afro-gaucho religious
community employs music and rituals to variously promote innovation and egalitarianism in Umbanda and Quimbanda, while it reinforces musical preservation and hierarchies in Batuque. Religious and musical leaders carefully restrict the cosmologies, ceremonial sequences, and sung prayers of one
religion from affecting the others so as to safeguard Batuque's African heritage. Members of disenfranchised populations view the religions as vehicles for empowerment, whether based on race-ethnicity, gender, or religious belief; and innovations in ritual music reflect this activism. These rituals
come to life through illustrative video and audio examples on the book's companion website. The first book in English to focus on music in Afro-Brazilian religions, Spirit Song is a landmark study that will be of interest to ethnomusicologists, anthropologists, and religious studies scholars.

About the Author
---
Marc Gidal, Ph.D., is Associate Professor of Music (Musicology) at Ramapo College of New Jersey. He holds degrees in ethnomusicology and religious studies.